The Sigg Vintage water bottle is not the most practical water bottle. It doesn't fit into most car cup holders, it can be a pain to clean, and it collects dents and scratches like they are going out of style. Thankfully, I don't have a car and I don't need to put it in cup holders. Thankfully, I'm not the one that cleans it, and I absolutely love the character that the dings and scratches add.
You might be able to find lighter, cheaper, and better insulated water bottles, but you would be hard pressed to find a cooler water bottle. Not because it has some special feature that keeps the temperature down, but because the design is fantastic. It just feels so right in your hand. I love the firm snap as the latching mechanism tightens down the cap and taps the neck of the bottle. I love the solid crunching scraping sound when you set the full water bottle on concrete. I love the fact that I have never seen anyone else with a water bottle like mine. I love not having to worry about punctures, cracks, or PCBs. I love not having to screw on the cap. I love not having to worry about losing the cap! I truly love using this water bottle!
I have used this water bottle for more than 2 years now and it has held up to my abuse quite admirably. The cap still holds a great seal. The rubber hasn't dried out or warped and the cap is pulled nice and tight. I have no problem setting it on it's side in a backpack full of papers. The latching mechanism is still secure enough that I don't mind letting it bounce around in the seat of my scooter. Even after I use it for tea or juice, it still doesn't end up flavoring my water. .4 liters may not be enough for some people, but I have found that it keeps me from carrying around too much weight in fluids.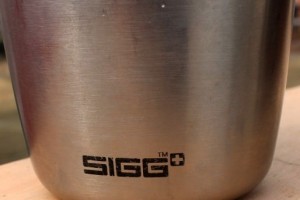 I opted for the model with only a simple logo on one side. There are other options with trendy patterns that I think detract a little from the design itself. At first, I even wanted to get rid of the logo, but over time, it grew on me. You can see that the printing is slightly distressed, but it has held up fairly well for two years of hard use.
This water bottle was a gift and I can't say whether or not I would have purchased it on my own, but I am most certainly glad that it found it's way to me. Now that I have gotten to know this water bottle, I hope it never wears out!
How can you not appreciate a tool that makes you smile every time you take it out?